Can't make it ? Have a home spa day !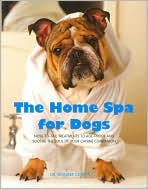 Image from Here.
When:
August 22, 11am-6pm & August 23, 2009 11am-3 pm
Organization:
PawsWay
URL:
http://pawsway.ca
Where:
245 Queens Quay West, Toronto, ON
Directions
FREE ADMISSION.
DOGGIE DAY SPA
City life have you and your dog stressed out? Need to escape from the rat race? Go to
PawsWay
for their Doggie Spa weekend. Learn priceless beauty tips, and how to pamper your pet shamelessly - from grooming- to nails -to massage!
My book Pick:

Stock Photo
View larger Image (Home Spa 4 Dogs)
The Home Spa Book for Dogs: Nose to Tail Treatments to Soothe the Soul and Age-Proof Your Canine Companion
Comparison Shop

See More Detailed Free Events
This post contains an affiliate link-see my blog policies for details