EnjoyAntiques? Auction Sales? You'll Love This Free Game!
FTC Disclaimer: Posts on Freebies 4 Canada may contain sponsored links and affiliate links which help put food on our table. This does not affect our opinions.
Antique Road Trip:America Dreamin' by Big Fish Games is a Free Downloadable PC Game that lets you build your own virtual antique shop! Big Fish also offers free online Games too! At
Big Fish Games: You can Play their top free Puzzle & Match 3 games online, no download required!
If you're new to Big Fish Games you might also be interested in this coupon code
New Customer Sale: Get any Collector's Edition Big Fish PC or Mac game for $5.99 (70% off). Use Code NEW599 at checkout. Ends 12/31/2014.
Do you like antiquing as much as we do?
My Dad was a big auction shopper. Once he came home and proudly presented mum with an umbroller stroller. "There, Don't say I never get you anything!"
My mother was aghast. Her face turned three shades of purple. Then it dawned on her that perhaps Dad didn't know what he had brought home.
"Err,...what do you think you brought home Len?"
"It's a golf cart!"
We roared with laughter.
With Antique Roadshow you can have all the fun of antiquing. This Big Fish Game has mini games integrated that you can play to expand your shop and there is even a live world wide online auction!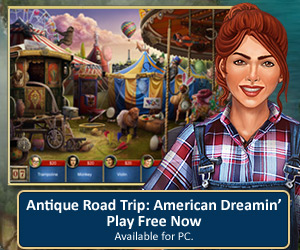 What do YOU love best about this Free Game?
Drop us a comment, or connect with us in one of these ways. We would love to hear from you!:
Subscribe to Freebies 4 Canada
you never know what we'll find next!
Related Links
Any adfly links below will open with a word from a sponsor to help cover expenses. Click the "Skip Ad" Button when it appears in the top right corner to proceed to the webpage.
Find out more at :
http://adf.ly/?id=4009826
Want direct links to your site? Leave a confidential comment to sponsor a post
.
Aren't you glad you signed up for
Freebie alerts from Freebies 4 Canada
? Be sure to share your Freebies on our
Freebies 4 Canada Facebook Page
!
YrHelper Infonut
This blog uses affiliate links see our
policies
for more info.